Fully Tracked International Shipping
Free Samples with Orders
Established Pharmacy for 40+ Years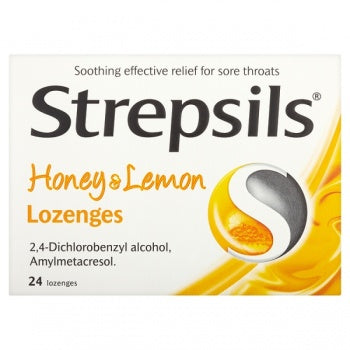 Strepsils
Strepsils Lozenges Honey & Lemon Pack of 24
Sale price

£2.98 GBP

Regular price

£3.33 GBP

Unit price

per
Description
Strepsil Honey & Lemon Lozenges are a form of treatment that works to relieve the effects of a sore throat and mouth pains. They work thanks to the active ingredients that are in the lozenges. These are Amylmetacresol and Dichlorobenzyl alcohol
Both of these active ingredients are mild antiseptics that work to kill bacteria in the mouth and throat. As well as killing the bacteria, these lozenges will also provide a soothing feeling as well as lubricating the mouth and throat.
These Strepsils lozenges are suitable to be used by adults and children aged 6 and over. Do not use if you are allergic to any of the ingredients that are contained in the lozenges or are hypersensitive to some types of sugar.
Use one lozenge and dissolve in the mouth. Use a lozenge every 2-3 hours, with a maximum of 12 lozenges in a 24-hour period. If symptoms persist or get worse, then speak to a doctor or Chemist 4 U pharmacist.
Share