Fully Tracked International Shipping
Free Samples with Orders
Established Pharmacy for 40+ Years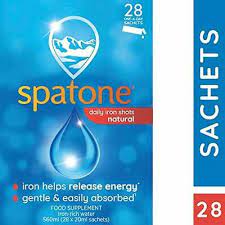 Spatone
Spatone Liquid Iron Supplement
Sale price

£8.21 GBP

Regular price

£13.49 GBP

Unit price

per
Description
Spatone Liquid Iron Supplement
28 sachets

Each sachet of Spatone only contains 5mg of elemental iron with an absorption rate of up to 40%. Spatone is packed into convenient sachets which can either be taken as they are or added to fruit juice - making Spatone the most convenient liquid iron supplement available.

One sachet of Spatone provides you with your RDA of iron - ideal to maintain healthy iron levels. During pregnancy you can safely take up to two sachets a day.

Why Choose Spatone?

Spatone is 100% natural. It is a naturally occurring iron-rich mineral water which is collected and packed straight from the source in the heart of Snowdonia, North Wales. They collect it, filter it for bacteria and fill it into our convenient, easy-to-open sachets. At no stage do they add anything to the water or convert the waters natural composition. That means with Spatone you dont have to worry about other ingredients causing adverse reactions or complications.

The iron in Spatone is highly absorbable

It is not actually how much iron we consume that matters but the amount of iron that our body is able to absorb. It has been shown that the iron absorption from Spatone is up to 40%. This is much higher than the iron absorption from food sources (5 - 20%) or conventional iron supplements (3 - 10%). Spatone is thus a highly effective source of iron which can be consumed to help prevent iron deficiency.

Does Spatone contain any additives?

Spatone is 100% natural and does not contain any additives. Spatone is free from:

gluten
lactose
preservatives
artificial colours
artificial fragrances
sweetener
sugar

How much Spatone can I take during pregnancy?

During the first trimester and post natal, one sachet can provide the average extra absorbed iron requirement of 2mg/d. During the second and third trimesters a mean iron absorption of 4 mg/d is required. This may be provided by taking two sachets of Spatone which should help prevent the development of iron deficiency. If pregnant or breastfeeding please consult your doctor or health care professional before taking any food supplements or medicines.
Share