Fully Tracked International Shipping
Free Samples with Orders
Established Pharmacy for 40+ Years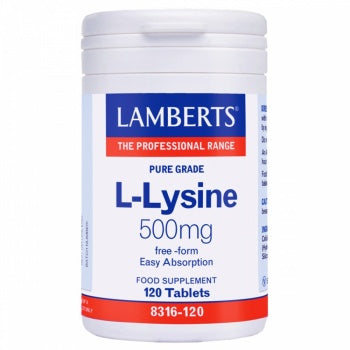 Lamberts
Lamberts L-Lysine 500mg Tablets
Sale price

£10.25 GBP

Regular price

£10.95 GBP

Unit price

per
Description
Lamberts L-Lysine 500mg Tablets
Provides a grade of lysine called USP which is the quality used in clinical nutrition products
Lysine is an essential amino acid and is therefore one of the eight amino acids that our bodies cannot make
Used by the body in the formation of collagen, the most abundant protein in the body
2-3g a day of lysine is required
Suitable for vegetarians
Lamberts® L-Lysine 500mg provides a grade of lysine called USP which is the quality used in clinical nutrition products (very cheap lysine products may contain animal feed-grade lysine).
Lysine is an essential amino acid and is therefore one of the eight amino acids that our bodies cannot make, so we are completely reliant on our diets to provide sufficient lysine. It is used by the body in a number of ways and, particularly in the formation of collagen, the most abundant protein in the body.
We require 2-3g a day of lysine and it is most abundant in animal based foodstuffs such as meat. Vegetables and vegetable proteins are not particularly high in lysine, and so some experts believe that vegetarian and vegan diets may provide rather low levels of lysine.
Daily Intake: 1- 2 tablets
120 Tablets
Share