Fully Tracked International Shipping
Free Samples with Orders
Established Pharmacy for 40+ Years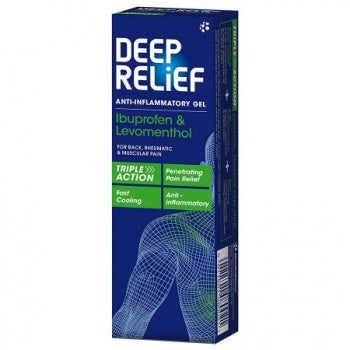 Deep Relief
Deep Relief Joint Pain Gel 50g
Sale price

£5.28 GBP

Regular price

£5.99 GBP

Unit price

per
Description
Deep Relief Gel is a fast-acting pain relief gel that helps to relieve inflammation while easing aches and pains. Ideal for those who need relief from muscular pain that will go right to the source. Deep Relief Gel comes in 30g, 50g, and 100g tubes.
Deep Relief Gel can be used to relieve many different kinds of aches and pains, as it can be used in most areas of the body as an effective pain relief.
Deep Relief Gel contains the active ingredients ibuprofen and levomenthol, which work together to ease pain and swelling. Ibuprofen is part of a group of medicines known as Non-Steroidal Anti-Inflammatory Drugs, or NSAIDs, which work to relieve pain while reducing swelling and inflammation. Levomenthol provides a soothing sensation, which helps to ease pain.
Before using this product for the first time, use sparingly on a small area of skin to test it. Apply 1 – 4cm of Deep Relief Gel, enough to form a thin layer over the affected area, and gently rub into the skin until it is absorbed. Do this up to 3 times a day, as required to relieve pain or swelling, leaving at least 4 hours between applications. Wash your hands immediately after use, unless you are treating your hands.
Deep Relief Gel is not suitable for use on children under the age of 12. Do not use this product if you are allergic to ibuprofen, menthol, aspirin or any other NSAIDs, or any of the other listed ingredients. For external use only, avoid contact with eyes, lips, nostrils, genital or anal areas, or any other sensitive areas. Deep Relief Gel is not suitable for use on broken, infected, or inflamed skin, and should not be used in the same area as other medicines put on the skin. Do not use this product if you are more than 6 months pregnant.
Share