Fully Tracked International Shipping
Free Samples with Orders
Established Pharmacy for 40+ Years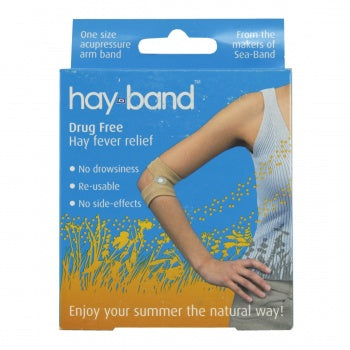 Hay-Band
Hay-Band Acupressure Arm Band
Sale price

£9.13 GBP

Regular price

Unit price

per
Description
Hay-Band Acupressure Arm Band
The Hay-Band* applies pressure to the LI-11 acupressure point. This acupressure point is a recognised point on the LI meridian and is used today, as it has been for many years for its therapeutic effects. It is believed that applying pressure on different parts of the body can clear blockages in these meridians and thus promote physical and emotional well-being.
The Hay-Band* is a drug free non invasive product. As such, it can be used by both adults and children (over 3 years) without any side-effects.
The Hay-Band* may be used in conjunction with other medicines.
PREGNANCY - The LI-11 pressure point has been used to aid the onset of labour so the Hay-Band* should NOT be worn during pregnancy.
*In accordance with the ASA and CAP it must be pointed out that the single point stimulation of the LI-11 point has not been clinically proven to relieve the symptoms of hay fever and allergic rhinitis.
Share