Fully Tracked International Shipping
Free Samples with Orders
Established Pharmacy for 40+ Years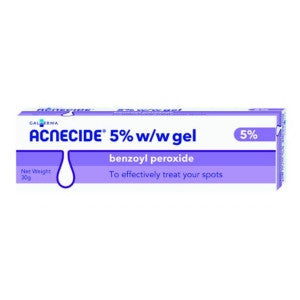 ACNECIDE
Acnecide 5% Gel Spot Treatment Benzoyl Peroxide 30g
Sale price

£7.82 GBP

Regular price

Unit price

per
Description
What Is Acnecide Gel?
Acnecide contains the active ingredient benzoyl peroxide 5% which attacks the bacteria (germs) known as Propionibacterium acnes, one of the main causes of acne.
Your Doctor or Pharmacist has recommended this medicine to treat your acne.
Acne appears as blackheads and whiteheads which people often refer to as pimples or spots.  You can use Acnecide on the face, neck and back.
How to use Acnecide Gel?
For External Use Only
Unless instructed otherwise by your Doctor or Pharmacist -
Wash the affected area with a mild skin cleanser and water, and gently pat your skin dry
Apply the gel in a thin layer once or twice a day to all of the affected areas
If you have sensitive skin apply the gel once daily before bed
Any drying or peeling which may occur to your skin may be reduced if you alter the number of times you apply i.e. once a day or once every 2 days until your skin adjusts to the treatment
Try to avoid exposure to strong sunlight whilst using Acnecide - If exposure is unavoidable, use a suitable sunscreen lotion and apply Acnecide in the evening after washing.
After 1 month of use visit your Doctor or Pharmacist so that they can check on the improvement of your condition.
Precautions
Talk to your Doctor or Pharmacist before using Acnecide Gel
DO NOT use Acnecide if you are allergic to any of the ingredients (see Patient Information Leaflet with product)
DO NOT apply to damaged skin
May cause swelling and blistering, if this occurs discontinue use
Avoid contact with eyes, mouth, angles of the nose and other mucous surfaces such as the lining of your nose.  If accidental contact should occur, rinse thoroughly with warm water
ALWAYS READ FULL PATIENT INFORMATION LEAFLET BEFORE USE
Share