Fully Tracked International Shipping
Free Samples with Orders
Established Pharmacy for 40+ Years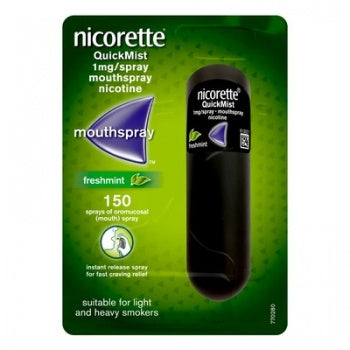 Nicorette
Nicorette Quickmist Nicotine Mouth Spray 1mg
Sale price

£19.08 GBP

Regular price

Unit price

per
Description
Nicorette Quickmist is a quick and simple mouth spray that can help you to quit smoking. It helps to reduce your nicotine cravings, reducing the urge to smoke and helping you to cut down or quit smoking entirely. Nicorette QuickMist is available in Fresh Mint and Cool Berry flavours.
It can be used by adults and children aged 12 and over who are looking to quit smoking. If you're looking for a way to help yourself quit smoking that can be used in smoke-free areas, Nicorette Quickmist could be the solution you've been looking for.
Quitting smoking sounds simple, but anyone who's tried to quit will tell you that it's much more difficult than it sounds. This is because your body becomes dependent on the nicotine in cigarettes and when you try to quit your body goes through withdrawal symptoms. This makes you crave cigarettes, making you feel like quitting is impossible. However, some options can help to make quitting smoking easier, increasing your chances of quitting for good.
Nicorette QuickMist uses a method called Nicotine Replacement Therapy or NRT to help you to quit smoking. It contains 1mg of nicotine in every spray, giving your body the nicotine, it craves without having to smoke. In this way, it replaces your cigarettes or cigars, helping you to manage your cravings and withdrawal symptoms as you quit without the harmful effects of smoking.
To use your Nicorette QuickMist spray, first prime the pump as explained in the patient information leaflet and then point the spray nozzle into your open mouth, holding as close to your mouth as possible. Press the button on the top of the spray to spray the mist into your mouth once. Do not inhale while spraying the product into your mouth. For best results, do not swallow for a few seconds after using this spray.
Using the right amount of this product is essential to help you to control your nicotine cravings. When you begin using this product, use one spray when you would normally smoke or notice that you are craving nicotine. If your cravings don't disappear within a few minutes, use a second spray. If you do need 2 sprays to control your cravings, you can use 2 sprays with every dosage from now on. Most people will need to use 1 – 2 sprays every 30 – 60 minutes. Do not use more than 2 sprays in each dose and do not use more than 4 sprays an hour. Do not use more than 64 sprays in any 24 hours.
Share