Fully Tracked International Shipping
Free Samples with Orders
Established Pharmacy for 40+ Years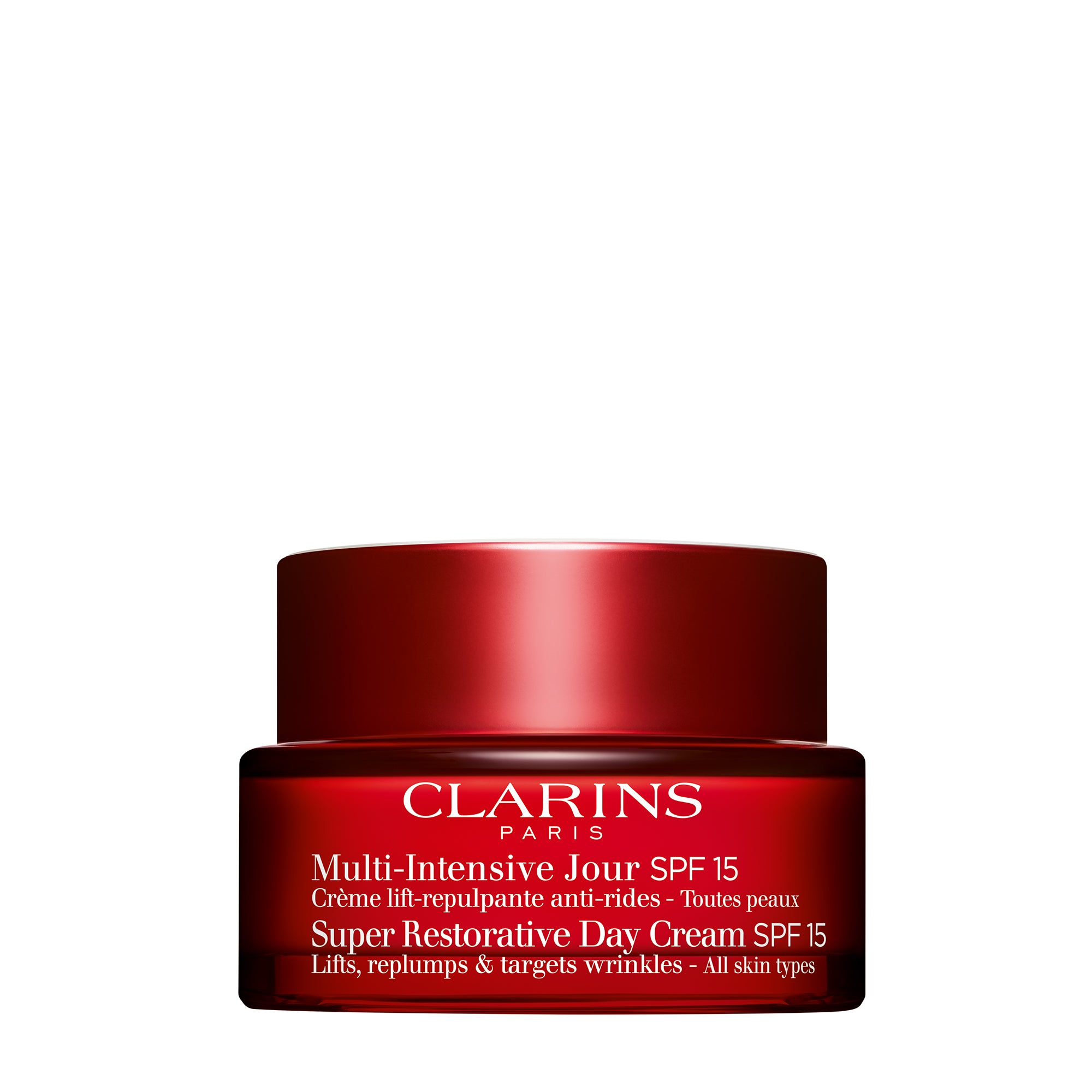 Clarins
Clarins Super Restorative Day Cream SPF15 50ml
Sale price

£74.44 GBP

Regular price

Unit price

per
Description
New innovation for menopausal skin.
The Super Restorative range is ideal for all women experiencing the effects of hormonal changes associated with menopause and has been formulated to support the skin during this stage of a woman's life. The skin is a hormone dependent organ and the changes in hormones during peri and the start of post-menopause result in the skin becoming unbalanced. This disruption means that the skin struggles to protect itself during the day as well as reactivate itself at night. This can result in signs of ageing becoming more visible. The nourishing and revitalising formulas of Super Restorative help to fight visible changes on the skin which include dryness, skin slackening, loss of density, deep-set wrinkles, and an uneven skin tone.
New research has led to Clarins' discovery of organic harungana which has intensive replenishment and anti-ageing benefits and offers the same effect as retinol whilst being tolerated by all skin types. Organic harungana is combined with our new plant discovery, organic gorse extract, which helps improve the tone of fibroblasts by up to 89% and provides a firmer, more toned skin alongside other ingredients such as organic desert date extract, organic sea lily and vitamin C derivative.
Each of the Super Restorative Day & Night creams are formulated to adapt to the skin's chronobiology. During the day, the skin is vulnerable and needs protection and the squalane extract found in our day formulas reinforces the hydrolipidic film and protects the skin. At night, the skin needs reactivating as microcirculation slows. Organic service tree bud extract helps to stimulate the skins microcirculation and boosts radiance. This innovative day and night duo ensure the skins specific needs are met around the clock.
The Day Cream with SPF15 protects the skin from pollutants due to its anti-pollution complex, protects the skin's natural barrier with vegetal squalene and instantly smooths the skin thanks to line filing pearls. The addition of SPF15 helps to shield the skin from UV rays.
How To Use
Apply in the morning to clean, dry skin. Warm the cream in the hands then place them over the face, working from the middle outward over the face and neck. Apply by gently pressing into the skin, always from the middle of the face outwards to avoid pulling tissues, enhance drainage and preserve features' youthful appearance.
Share